 2021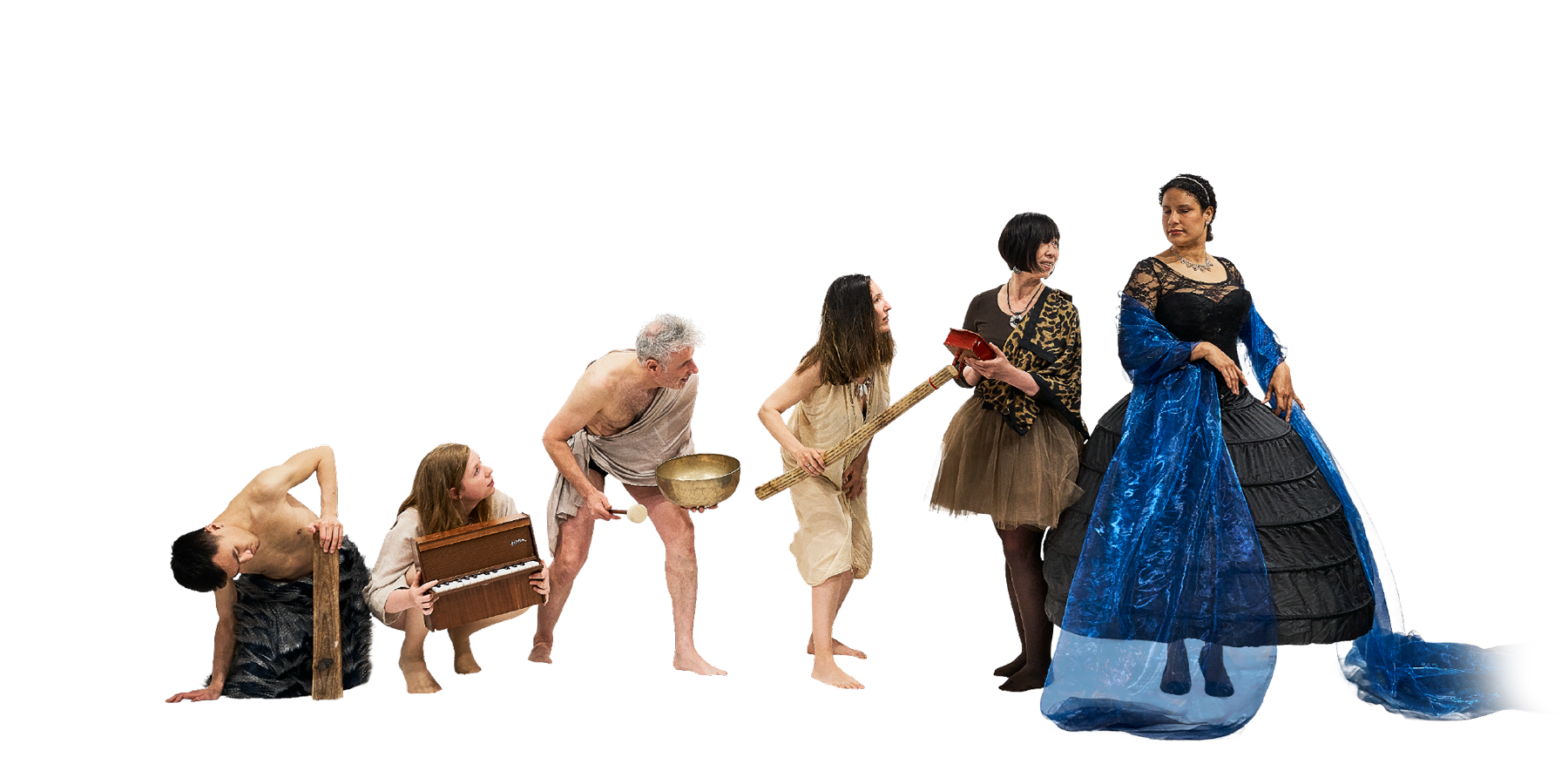 13.–14.01.2022 / resonanzraum
13.–14.01.2022 / resonanzraum
Here Comes Everybody, aka Humphrey Chimpden Earwicker, central character in James Joyce's legendary Finnegans Wake, is each and every one of us at the same time. John Cage, on a quest to liberate music from all shackles, was fascinated by Finnegans Wake and the all-encompassing guise of HCE.
The 2022 Non-Piano/Toy Piano Weekend draws a direct line from Here Comes Everybody to John Cage to our world today. After 2 years of caution, isolation and isolation, togetherness deserves a precedence. And deserves a celebration that is as bursting, colourful, diverse and crazy as our networked world actually is.. 
It all starts in the living room at home with John Cage's 'Living Room Music'. Chip bags, glasses and kitchen utensils turn out to be the most satisfying musical instruments in the hands of the four musicians sitting at a table. In Pamela Z's 'No Baggage' and 'Notice of Baggage Inspection' we try to board a plane, but fail because of an insurmountable wall of regulations and unexpected obstacles. How many hairdressing appointments have fallen victim to the lockdown? A visit to the hairdresser is no longer a matter of course, but Hamburg's Vidal Sassoon star hairdresser Raphael  all the more happily performs a choreographed haircut to toy piano music in Steffen Wolf's 'The Cut'. In Benjamin Scheuer's 'The Real Estate Agent', a sleazy housing agent embodies all the difficulties of finding an acceptable and affordable apartment. And more than ever our entire life is determined by rules.  Consequently Sara Glojranic's 'Latitudes' consists of a series of lexical on-screen instructions that the pianist has to meticulously follow. All these everyday absurdities make a visit to the therapist absolutely necessary!  Fortunately Pamela Z's 'Dr Melfi' has a sympathetic ear for all our problems. Further consolation:  we are not alone: ​​A heartwarming Indian love song, a pop song by the young Hamburg multi-talent Taleja Grossmann,  and the exuberant 'Death, Hocket and Roll'l by the young Californian composer Thomas Kotcheff embrace and reconcile us as a warm, cultural, global village.
 Joining the festival is the multi-virtuosic pianist and accordeonist Dorrit Bauerecker who will present pieces from her brand new album 'Experimental Music Circus' featuring the long-awaited sequel to the famous 'One-Man Band' series from Moritz Eggert, who has recently been a strong advocate of women's rights, particularly young students: This time around it's 'One Woman Band' for a multi-tasking power woman.  In an extreme contrast Dorrit also presents a piece focusing on homelessness in Hamburg by Niklas Seidl.
However, the cross-connections do not only range from Joyce to Cage, or from the hairdresser to the toy piano. Like a nucleus, John Cage inspired a wide variety of composers. Referring to 4'33", György Ligeti wrote Trois Bagatelles, a still largely unknown piece of silence, as well as Toru Takemitsu's 1962 Corona, a Cage-inspired gem. Jonathan Harvey's Homage to Cage, à Chopin (and Ligeti is also there) quotes and honors three great musical heroes, and with a piece about Cage's encounter with the Buddhist master Daisetz Taitaro Suzuki, Jeeyun Jang, composition student at the HfMT Hamburg, closes this gap. And last but not least, Cage's own fascination with Finnegan's Wake inspires a contemporary focus on playing with musical language in pieces such as Katherina Balch's 'These Intervals Matter' and 'Caccia' by Jo Kondo.
In 2022, the Non-Piano/Toy Piano Weekend will celebrate the renewed community.
We are all in the limelight: our diversity, our togetherness, our everyday rituals, the banal, the sublime, the tragic and all the crazy events of the last few years. Me Too, a life without  travel, hairdressers and with toilet paper rationing.  The global pandemic has blown us apart at many points, but also welded us together more than ever at some points. It's time to marvel and ponder, to laugh and to cry, to scratch your head and pat your thighs at all of this. Would Humphrey Chimpden Earwicker aka Finnegan aka Here Comes Everybody ever imagined our present world in his craziest dreams?
With works from Katherine Balch, John Cage, Anthony de Ritis, Reena Esmail, Moritz Eggert, Sara Glojarnic, Taleja Großmann, Jeeyun Jang, Jonathan Harvey, Thomas Jo Kondo, Thomas Kotchheff, Sascha Lino Lemke, György Ligeti,  Benjamin Scheuer,  Niklas Seidl, Toru Takemitsu, Steffen Wolf & Pamela Z. 
Program



Evening 1
John Cage (1912-1992) 'Living Room Music' (1940) for 4 performers 10'
Pamela Z 'No Baggage from Baggage Allowance' (2010) for performer 3'
Pamela Z 'Notice of Baggage Inspection' (2007)  for piano and tape 1'
Pamela Z 'Dr. Melfi' (2007) for voice and Non-P Ensemble  3'
Steffen Wolf (1971) 'The Cut'  (2020) for hairdresser, customer  and toy piano 10'
Jeeyun Jang (1992) WP for Non-Piano Ensemble
Thomas Kotchheff (1988)  'Death, Hocket and Roll' (2014)  for 2 toy pianos 6'  
Fabian Svensson Grunt Work (WP) for Piano, toy piano & voice (1 performer)
Frédéric Verriéres Evening Harmony (like Debussy has never heard it) (2017, rev. 2021) for midi-piano, 1 pianist, 3 assistants and electronics   
Queen Elizabeth  I. 
Annesley Black Songs of Syphilis (2019) for toy piano and voice 
Lucie Cunningham/Steven Tanoto As She Likes It, the first four ages (WP) for puppet theater
Linda Marcel Her Judgements (WP) for toy piano
Benjamin Scheuer moè (2019) for high soprano and otamatone
Manuel Rodriguez Valenzuela Toccata á l'Acte (2015) for piano and samples
Sascha Lino Lemke Toilette Royale (WP) for soprano, midi-toy-cemablist and three court musicians 
Participants
Lucie Cunningham · puppeteer 
Bernhard Fograscher, Hector Docx, Jennifer Hymer, Daria Karmina-Iossifova, Steven Tanoto · piano, toy piano, toy instruments  
Lin Chen · percussion  
Ewelina Nowicka · violin 
Marcia Lemke-Kern · voice 
Jacob Sello, Sascha Lino Lemke · electronics  
Maike Schuster · director
With works by 
Annesley Black, Peter Köszeghy, Sascha Lino Lemke, Linda Marcel, Mats O Hansson, Tam Pham, Steve Reich, Manuel Rodriguez Valenzuela, Benjamin Scheuer, Jacob Sello, Fabian Svensson, Steven Tanoto, Frédéric Verriéres